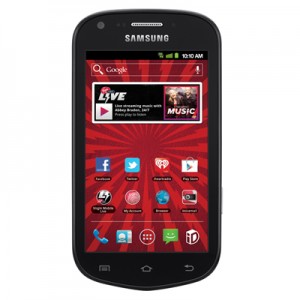 I have owned a Samsung Galaxy Reverb for about two weeks now with service provided by Virgin Mobile. My impression thus far is that this is the best value smartphone on the market right now. My wife has an HTC One V also from Virgin Mobile and my Reverb has a larger screen, a faster processor, and the Samsung Android-powered interface is much more intuitive then the HTC sense interface.
I bought my Reverb for $100 during the Virgin Mobile black friday sale and paired it with their $35/month beyond talk plan. The phone takes very nice pictures on a 5 MP rear facing camera and also has a 1.3 MP front-facing camera for video chat. It is powered by a single core 1.4 GHz Qualcomm Snapdragon S2 processor. Finger gestures are fluid and games and video play smoothly and vividly on a 4 inch glass touch-screen. The Reverb is running Android 4.0 and connects to Sprint's 3G network which is the fastest service available in my town. I get about the same download and upload speeds (1 Mbps/400 kbps) when connected to 3G as I get with my DSL connection. Battery life is acceptable and comparable to other value smart phones. With heavy use, I must recharge every day or two.
It is really a great phone and I would recommend it to any of my friends. Click the image links above or below to be taken to Virgin Mobile USA for more details.