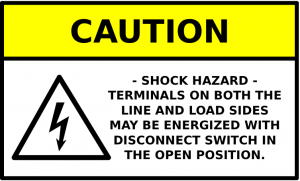 Update: I've made new versions of these warning stickers using white lettering on a red background to conform more completely with local fire and electrical codes. Follow this link to see the updated warning stickers.
Click the image at left or any of the images below to be redirected to my CafePress store to purchase individual or a complete set of electrical warning signs. These signs are appropriate for an Enphase microinverter-based grid-tie PV solar system. The signs are printed on UV and weather resistant 4-mil vinyl stickers. The complete set is $15 plus about $2 for shipping.
The first sign below is to be placed on the AC cutoff safety switch of a PV branch circuit. The second is to be placed on the door of any load center that contains circuit breakers backfed by the PV system. You will need one of these for your home's main load center and one for any sub panel containing backfed breakers. The last is to be placed inside the load center directly next to each backfed two-pole 240 V 20 A circuit breaker tied to your PV array.
I am using these stickers on my Enphase M215-based system which I installed during the summer of 2012. I searched for signage online and couldn't find any that was appropriate and affordable so I made my own. Now, I want to share my work with the world.